Classes 2015-2016 Archives -
Year 5 @Hewish
"Don't tell me the sky is the limit when there are footprints on the moon."
Term 6 Week 7
After a very successful afternoon of sales, it emerged that the crew made a fantastic profit of £145.90. Unfortunately this wasn't enough to take the top winners' prize but it was a very close second! Fortunately though, we are now happy to announce the arrival of the crews' Blue Peter badges, awarded to them all for their persuasive letters which successfully earned Mrs Dadds a cloth badge.
After a tearful goodbye to Mrs Undery today, we now look forward to sending off the Year Six children in style at St Andrews Church tomorrow morning.
Mrs Coulton and Mrs Webb are so happy to be moving on together with our amazing children next year. Happy summer… and see you in September!
ENTERPRISE WEEK (Term 6 Week 6)
The Year Five Crew would like to present their top 5 products which will be available to buy from 2pm next Tuesday on the school field @ Hewish! Going once, going twice…sold!
Marketing by Lottie & Tilly, photos by Chloe & Alice
Term 6 Week 5
The crew became the teachers today at our Science Fair, instructing the Little Learners, Busy Bees and Year One children @ West Wick with amazing enthusiasm and great scientific knowledge.
They engaged our younger learners so well, modelling experiments such as slime making, play doh, exploding volcanoes and much more! Well done Year Five; we are so proud of you.
Term 6 Week 4
Bonjour! The Year Five Crew enjoyed a lovely afternoon at Priory Community School on Wednesday where they met French teacher Sandrine Boll and some of her Year Ten students. We practiced speaking French and learned some new vocabulary; your children are now able to order breakfast items! Children were given the opportunity to order items such as pain au chocolat et jus d'orange before enjoying them as a tasty afternoon treat! We have also been working hard on our Overcoming the Monster stories as well as some real life maths planning trips in and around Weston super Mare.
Don't forget our Science Fair next Thursday @ West Wick at 2pm. Siblings very welcome! 
Term 6 Week 3
What a fantastic week we've had in the Year Five Crew. We enjoyed a successful field trip to Uphill on Tuesday where we became geographers for the day. The children observed the human and physical features of the village, looked for different land use and even identified flowers, plants and animals found there. They used this information to write reports about the geography of the village when they returned.
Other successes this week include their absolutely beautiful performance of Adele's 'Make you feel my love' during Worhsip on Friday where they brought Mrs Dadds to tears. This will be performed again on the day of the Science Fair in July.
Term 6 Week 2
Inspired by our week-long study of structured poetry, Eva has written her own at home depicting the changing state of a flower:
Inside a seed tucked up tight, a little plant about to see the light.
The first sign of life is a tiny shoot, and then comes the very important root.
Leaves grow in all shapes and sizes, watch as the stem rises.
From time to time there comes a little shower, to help open up our flower.
As the Autumn leaves fall, my plant still stands tall.
By Eva Henderson
In preparation for our geography field trip to Uphill next week, we spent this afternoon studying our local area as well as locating Uphill's man made and natural features. 
Term 6 Week 1
Welcome back to the final term of Year Five! After a day off (for the children) we got back into the swing of learning with some fantastic fraction multiplying and amazing descriptive writing ready for our upcoming story writing. The crew have learned to play a traditional French game/song entitled Il Court, Le Furet (the ferret runs) using a ring passed round a circle to represent the animal running through the forest. We also tried out our fabulous new 100 square on the playground. Here we are trying to stand on a number that might appear in the secret sequence!
Term 5 Week 6
We can't believe we are at the end of our penultimate term. We've had a slightly shortened but busy week with the crew throwing themselves into Sports Day, rehearsing their beautiful rendition of 'Make you feel my love' ready to be performed next term and tackling structured poems. Below is Nelly's poem based on the story from our class text 'Clockwork', depicting Gretl's near-fatal encounter with the sinister Sir Ironsoul.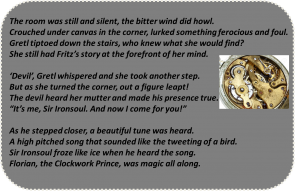 Term 5 Week 5
Another busy and successful week with the crew taking part in (and writing) a discussion based on our class text, 'Clockwork'. A big thanks to Amiliya who shared her home learning with the rest of the class. Who knew that investigating irreversible change could be so delicious!
We have begun our study of famous artist Andy Warhol and his work with detailed drawings of everyday items (found in Mrs Webb's cupboard!) Below are Melissa's 'Whiskas' and Chloe's 'Heinz Beanz' pieces which will be entered into an art competition by our school art leader, Mrs Coulton. Well done girls!
Term 5 Week 4
Although the food technology was no doubt the most exciting part of the week for the crew, it really is worth mentioning their 'sticking power' in maths. We all really were in 'the learning pit' with converting between imperial and metric units mid week. However, by Friday the crew managed to turn it around due to a positive attitude, perseverance and a helpful steps to success model. Below are examples of Tilly's application of this model and Charlie R's independent workings.
Term 5 Week 3
We have continued to work as scientists this week with investigations into chemical change. Children discovered the amazing properties of corn flour and water, made their own play dough, investigated home made volcanic reactions and even made coke explode (sorry if they wish to try this at home!)  
Term 5 Week 2
It was all about separating this week as the crew acted like loyal subjects to give Queen Coulton her gold and Queen Webb her clean water! The children sieved, filtered and evaporated, using their newly-honed explanation skills to write up their findings!
Term 5 Week 1
What an amazing kick start to our new learning theme 'What is change?' with a visit from Chem Labs of Bristol University on our second day back. The crew donned lab coats and had a go at some fantastic experiments. Feedback from the children tells us that they simply loved seeing such awesome science firsthand!
Term 4 Week 6
Another fantastic week (and term) ended culminating in a great deal of hard work paying off. Below are our Year Five Crew finished, published and illustrated stories ready to be shipped off to the Reading Zone Story Competition. The sun finally favoured us this morning, allowing us to complete our shadow sticks investigation (see the image section). This resulted in some great predicting, super science and fun had by all!
Term 4 Week 5
Despite it being a short week, the crew have been hard at work typing and illustrating five stories ready to enter into the writing competition at the end of April. We have seen fantastic perseverance, great collaboration and excellent illustrating skills. Well done Year Five! We also enjoyed learning about shadows with Lego people. Some of the reflections on learning this week:
"I learned that the farther away an object is from the light source, the smaller the shadow." 
"I learned that if you use more torches, you can create more shadows!"
Term 4 Week 4
Another fantastic week jam packed full of learning. A huge congratulations to five of the crew who played fantastically in the Hockey match at Worle school on Thursday afternoon. Eight archers also excelled there, taking first and second place in the group competition with Luke and Brooke winning best boy and girl respectively. What a success! Key Stage Two were also treated to a rocking rap version of The Fresh Prince of Bel Air, performed fantastically below by the crew with great attitude!
Term 4 Week 3
There was an electric atmosphere for our Science Wow day today where children investigated what would happen when the power was increased in a series circuit, how to send an SOS signal with a bulb, cell and a few bits of wire and the function of home made rheostats. The crew worked enthusiastically and collaboratively, demonstrating their knowledge and understanding of circuits. 
Having also finished our 're-birth' story, the crew are well on their way to devising plots of their own to enter into the upcoming Reading Zone Picture Book Competition. Watch this space for some exciting writing!In addition to this, the crew have enjoyed creating islands in rival clans to develop their understanding of co ordinates, translation and reflection. Tomorrow, the great battleships battle of the Year Five Crew will commence…
Term 4 Week 2
Wow, what an amazing week it has been, celebrating maths and reading with a range of exciting challenges. Here are a few tasters…
Thursday 3rd March was World Book Day~ Children explored and appraised the work four writers/illustrators and examined their technique before taking on the challenge of producing their own artwork 'in the style of…' In the afternoon we looked at the story of Joseph and his coat of many colours. After drawing out the morals, we discussed the power struggle between Joseph and his brothers, identifying how this changes as the story progresses. Children made some very thoughtful comments about the power of Joseph's faith that helped him to fulfill his dreams.
We also thoroughly enjoyed dressing up as our favourite book characters! 
Wednesday 2nd March was World Maths Day ~ The crew did fantastically well in their tables challenges. Thank you to everyone who has already collected their sponsor money. Children spent much of the day exploring the number 5, writing statements, devising calculations and even creating poems:
Who am I? A Haiku-style poem by the Year 5 Crew
My shape: pentagon
Calculator 'S'
When squared, twenty five
Fingers on one hand
I am the third prime
Term 4 Week 1
Welcome back to our fourth term! We have had a busy week of learning about some of Ancient Greece's most prominent thinkers and how they have influenced today's world. We are also nearing the end of our class text 'There's a boy in the girls' bathroom' and to further their learning, the crew have predicted what will happen to the main characters. Depicted below is one groups' interpretation of Carla and Bradley's final reconciliation.
Term 3 Week 6
What a fantastic end to the term with our amazing crew demonstrating great learning skills. After many successful learning conversations between parent, teacher and pupil, we have seen children pushing themselves to try higher challenges and, even in two cases today, more than one challenge at a time! What great immediate improvement on learning. Keep it up Year Five! Also trying his best this week was Bradley (the main character in our focus book) as demonstrated below by Matilda who depicted his change from 'monster' to boy.

Term 3 Week 5
Between designing cages to hold a super villain and getting stuck into our new text 'There's a boy in the girls' bathroom!', we have been learning how the Ancient Greeks governed their city states this week. We saw a fantastic display of power from those heading up the Monarchy and the Tyranny as well as well as some good arguments from those working in an Oligarchy. Well done Year Five Crew!
Term 3 Week 4
Measuring angles and writing poetry have been some of the focuses for the crew this week. Children practised measuring accurately in preparation for their maths project next week. After reading some inspiring visual poems, children created their own, inspired by the short film Orpheus and the Underworld. Below is Eleanor's dark depiction of The Snake:
I slithered, I slid then I hid.
My fangs dug in and my venom poured into her, making its way to her soul to take over.
She turned weak.
My red, revolting eyes glimmered in the light like stars but evil.
She turned grey; I knew it had worked.
I slithered, I slid then I hid.
Term 3 Week 3
Children have been thinking like artists, designers, mathematicians, investigators and instructors this week as they have worked towards creating their own mythical creature and instructing others on how to catch it. The crew used Top Trumps cards as inspirations for their own designs and followed lines of enquiry such as 'does the weight of a Deadly 60 creature determine its deadliness rating?' Below is Chloe's amazing creature and the Top Trump card she created for it. 
Term 3 Week 2
It was 'Opa' galore this week as the crew welcomed visitors Ody (native Cephalonian and brother-in-law to Mrs Coulton) and his wife to our class to tell us all about the Greek culture. The children asked fantastic questions and learned lots. They were even given the opportunity to try some Greek nibbles! In other news this week, the crew have enjoyed learning another myth (the sad tale of Orpheus and the Underworld). Well done to our children who took part in the Sports Hall Athletics, coming second out of a large number of schools.
Term 3 Week 1
Happy New Year to all our families. We got off to a fantastic start by delving into the myth of Demeter and Persephone and writing questions for our Greek visitor next week, all to support our new learning theme 'Who holds the power?' The fantastic fives have tackled some tricky maths problems yet again this week and have even started learning to rap! We have also been particularly impressed by their abilities to discuss their online safety in our ICT sessions.
Term 2 Week 7
We have reached the end of a fantastic term. Many children reflected that they have been so inspired by this term's learning that they want to continue it at home. One member of our class even took home today's maths challenge to work on further with her parents! One of the Year Five Crew's best achievements this term has been the whole school worship they led on the theme of justice. Well done Year Five! 
We wish you a merry Christmas and a happy New Year.
Term 2 Week 6
We saw in the end of our current Learning Theme with children pitching their completed theme park rides to their peers in Year Six as well as pupils at Uphill School. What confident and creative children we have in the Year Five Crew! This week we have also begun work on how Christmas is celebrated all around the World. We have used and applied our data skills to find out more about Brazil and Canada and have learned about Christmas traditions in Japan and India.
Term 2 Week 5
A fabulous week of seeing ride designs come to life as the Year Five Crew crafted their theme park rides, made posters to explain them and wrote pitches to sell them. They are very excited about performing them next week to their peers in the Year Six Crew and at Uphill School. 
Term 2 Week 4
In the true spirit of 'learning without limits' the Year Five Crew embarked upon the final leg of their learning journey for this term; making their own rides. Two small groups insisted that they could and would make a log flume and so off they went! We intend to pitch the finished prototypes (along with speeches) to our peers from Uphill sometime over the next week. What really impressed their teachers (other than the amazing collaboration, perseverance skills that we have come to expect from this class) was their ability to tidy up at the end of it all! 
Term 2 Week 3
Another fantastic week of 'tragedy' stories and theme park maths. We really hit our target of 'everyone' today in maths when the whole crew finished buying rides and stalls. They are ready now to 'open for business' on Monday! Reflections in books were fantastic. As Chanel reflected, 'practice makes perfect and now I can do it'! The crew also had a fantastic time learning woodwork skills in preparation for designing and making their own theme park rides. Luckily all children went home with fingers intact!
Term 2 Week 2
This week we have embarked on a real life maths project where children are designing and running a theme park. One member of the crew was so enthused by his learning, he set his own higher-level challenge and even asked to take home his maths book! Today we celebrated Children In Need by dressing as superheroes. There was definitely some super writing happening in the classroom; here is the opening to Matilda's tragedy story:
Lightning flashed across the vast, vivid, violet sky. The moon was full and shining brightly above Northern Ireland. A colossal castle stood in the centre of a raging battle field.
Term 2 Week 1
Wow, what a great start to the term. On Monday we welcomed professional juggler Stuart in to teach us some circus skills. We had a fantastic time mastering the stilts, juggling balls, spinning plates and more. Well done Year Five Crew; Stuart thought you were wonderful children!
We have also been busy building Knex models ready for our own design 'n' build later in the term. They have definitely tested our collaboration skills, ability to read/follow instructions and our patience but we stuck at it as that's what we're all about!
Week 8
We have celebrated the end of Term One with many of our crew participating fantastically in the cross country at Hutton Moor today. All children ran brilliantly and just as importantly, demonstrated excellent sportsmanship skills by cheering on their peers.
This week we have also trialed our new parent-pupil-teacher consultations and have seen our amazing children leading the meetings with their learning reflections. Below are examples from two of our fantastic learners  that really capture the choice and challenge essence of Learning Without Limits:
Charlie R: "I like challenging myself and I'm proud of all my work. Its hard most of the time and sometimes I get stuck but I go back and persevere. To help me grow, I need my teachers to challenge me more. "
Chloe: "I am already growing as a learner by doing challenges two and three but to grow more I think I need to set myself extensions for when I am finished."
Finally, through some very tricky investigative work, we have worked out that the circumference of the London Eye is approximately 506 metres. Well done Year Five Crew for your enthusiasm, dedication and perseverance!
Week 7
Today the children were shocked to discover Tyke's secret in the book we have been reading. The clear message is not to judge a book by its cover! Year Five thoroughly enjoyed investigating and building their own levers and pulleys today to support our work on forces. We even managed to set aside some time for a lever hunt in the Busy Bees' construction area.
What has impressed us the most this week has been the children's abilities to peer support one another, especially in Maths. Following some paired work on subtraction, Ted reflected that 'Eva was awesome and really improved'. She in turn reflected that she felt more confident after working with him! This learning continued during today's Post It Challenge, where children pushed themselves to tackle tricky subtraction with some children asking for more beyond Challenge Three. What fantastic learners!
Week 6
What a fantastic week the Year Five Crew have had investigating forces. From gravity to friction, air resistance to water resistance, we have looked for evidence of forces in action. We continue to explore the differing characteristics of Macbeth and his soon-to-be queen Lady M and the children have enjoyed lots of practical maths activities this week in order to build confidence in their mental agility.                                           Why not try some mental addition and subtraction this weekend at home?
Week 5
This week we have read, acted out and discussed in detail the first scene of Macbeth. Below is the first paragraph of Chanel's 'letter to Lady Macbeth' reflecting upon the events on the heath:
Dear Lady Macbeth,
Today I have a new feeling inside me. It might feel like this to you also if you trust me. My hand shivers as I write this. I was on my horse in the powerful and stormy night when mist hit me. I saw green smoke and bubbles rise up into the air.
Week 4
Well…  we have really got into the swing of our new learning theme 'Have we made it better?' This week we have enjoyed watching and reading Shakespeare's Macbeth and have learned about the history of the roller coaster. So far we have some very intriguing and complicated designs lined up for making later in the term!
Children in Year Five will also be piloting a new website at home named Sum Dog  (please follow link to access website). This will allow children to play educational games in a safe online environment. Don't forget to try out your new log ins over the weekend!
Week 3
Whilst the happy campers enjoyed Knapp House, Mrs Webb, Mrs Coulton and Mrs Few accompanied eight Y5 and Y6 children to Mendip Outdoor Pursuits for a day of hiking,  disc golf, forest school fun and hot chocolate!
Week 2 
WOW! What an amazing first full week back we have had. The Year Five crew have worked hard with both their teachers this week to create beautiful art work and moving poetry centered around one of our values 'compassion'. See our image section for the 'hands & hearts' themed art work.
Here is the class poem that they performed brilliantly during today's worship:
COMPASSION
Compassion is someone loving you without knowing you. It can make your heart soar and swell.
It is like a soft, warm hug from a cloud, surrounding you with love and sharing its kindness, protecting you like a snug, knitted blanket.
Compassion is like a mighty oak, sharing its seeds to the loving World.
It is the gentle soft touch of a hand, the flooding of love.
Compassion is like a wave of joy, kindness and love spreading through the World and flowing through you. It will flow until the end of time.
Compassion is a gentle and caring feeling, felt deep in the soul.
It is a seed in the heart, growing stronger and greater every day.
Look and you will see that compassion is everywhere. You are compassion.
Pay it forward.
Week 1
We are all very excited in Year Five and are currently enjoying reading a variety of free verse poetry. We plan to write our own poems next week centered around one of our values 'compassion'. Watch this space for some examples!
Here we all are striving for excellence to be a 'quality audience'!