Year 2@West Wick 2017-18
Term 5
Week 3
We started our maths learning this week by looking at a variety of 2D shapes and we know that 2D means that they are flat. We discussed their names and how we knew what shape was called what. To noticed that the different shapes had different properties such as curved and straight edges, different amount of vertices (corners) and a variety of sides and this is how they can be identified. The shapes that we looked at were circle, square, rectangle, oval, octagon, pentagon and octagon. We compared shapes on Wednesday and identified the features of the shapes that were the same and those that were different. We learnt that a square and a rectangle both have four sides and four vertices but a square has four sides of equal length where as a rectangle has two shorter sides and two longer ones. The children have also remembered that shapes have lines of symmetry, which is where we split a shape into two equal parts. As this week progresses we will move on to 3D shapes.
In our writing we have continued and finished our dragon stories. We have been learning that there are two types of conjunctions, subordinating and coordinating. Subordinating conjunctions such as, after, although, as, because, before, even if, even though, if, in order, are used at the start of sentences where as coordinating conjunctions such as, and ,because, for, or are used in the middle of sentences to add more detail using an extra clause. We challenged ourselves to write sentences using both types of conjunctions in our stories. Below are some examples of our work…
'Although the dragon was still asleep Zoya went for a walk so that she could get some exercise.' Florence
'After a while Zoya heard a crackle, it sounded like popcorn but it was just the egg hatching.' Sophia
'When they walked into the cave they found some treasure and when I say some, there was lots!' Ryley
'When she went in to the house she was surprised because there was a mouse there.' Ollie
'When the dragon looked at Zoya he loved him but Zoya knew that the villagers would want to hurt him.' Mia
Please keep a look out for our termly overview letter that will be coming home on Friday. This will give you some detail about what learning we will be covering in class between now and the end of the school year. It covers subjects such as R.E, P.E, maths, English and our topic 'What will you create?'
Week 2
What a week the Year Two Crew have had! We have had a busy week of learning and a visit from Mr G on Wednesday afternoon.
In maths this week we have been looking at equivalent fractions of shapes, counters and numbers. We have revised that the denominator (the bottom digit) in the fraction tells us how many groups we need to share it into in total and the numerator, the top number tells us how many groups we need or to colour in. For example if the fraction was 3/4, we would know that we need to have four groups in total but we would only need to colour in three of them. We have extended our learning to find out about equivalent fractions and have discovered that a half is the same as two quarters and that two thirds is the same as four sixths. We know that we can do this with amount of numbers as well as with shapes. Later on in the week we will be moving our focus to balancing equations. This where an equals sign is in the middle of the number sentence and the two sides have to make the same total e.g. 6+4=5+5 . The children will be working out the total of the first side, and then using this information work will you an inverse number sentence to make the second side balance and total the same across both sides.
In our writing we have continued to describe the dragons from our story. We started the week planning our stories through the innovation of the story Zoya's Dragon. We did this on a story line and drawing our ideas in sequence. On Wednesday we started by writing our story starters. We found out there are different types, some start with describing the setting, others use suspense and some use humour. These were some of our ideas…
'One cold frosty evening on rocky mountains…' Tegan
' There was a blizzard blowing high up in the mountain tops…' Evie. M
'It was as icy in the North Pole..' Sophia
We continued with our dragon stories on Thursday. We wrote the next stage of our stories which started with the stem sentence 'It all started when..'. We were challenged to use a preposition as well as adjectives to describe where the dragon egg might be. We thought of lots of words together, behind, on top of, underneath, beneath, on top of were some of our ideas.
Mr G's science shows came to visit us and the Year One Crew on Wednesday afternoon and the children were truly inspired. We donned our white lab coats and science goggles to carry out investigations all about materials and their properties. We looked at sounds and how they make vibrations and travel along string and metal. The children felt the vibrations using a Tibetan singing bowl. We investigated metals and tested different types to see if they are all magnetic and were surprised to find out that some of them are not.  We also used magnets to separate iron filings from sand.  One of the children's favourite activities from the workshop was investigating how much water a nappy could hold, they predicted that it would not hold a lot but most groups managed 4 or 5 test tubes full of water. The final activity was a sorting activity where your children had to sort a variety of different objects however they wanted to. Lots of the crew looked at what they were made of and grouped them into categories like wood, metal, plastic, gas and food. Your children would have also bought home a slime mixture which they made using PVA glue, borax and water. The children were amazed to learn that this mixture is a very slow moving liquid despite it looking like a solid. Be warned it will flow into your carpet if it is left sitting on the floor!
Ollie and Mia making flubber.                          A class photo of all of us.
                  Investigating metals, we wanted to                 We found out that sounds make vibrations.
                              know if they are all magnetic.
              Lizzy and Kayleigh making more flubber.      Alfie and Jack testing the strength of the magnets.
Jay seeing if he can make his way over         Ryley and Max playing with their slime.
                  the metal without setting the buzzer off!
We spent Thursday afternoon thinking about the people in our lives that are special to us. We made folded paper men that we labelled as people who are important to us and decorated each one to look like them. The children found it tricky to cut the figures out so that they were holding hands but we all got there in the end! When we talked about why the people were special to them we had words such as kind, caring, loving, gentle, funny, friendly and cheerful.
As the weather has taken a warmer turn can we please ask that you ensure that your children come to school with a water bottle, sun hat and sun cream. Unfortunately we are not able to apply sun cream but the children can apply it themselves or come to school with it already on. Please label their sun cream bottle with their name.
Do not forget that you can keep up to date with class updates during the week by following the school Facebook page or Mrs Cockram on Twitter.
This weeks spellings- badly, hopeless, penniless, happily, lovely, joyless, slowly, quickly, careless, fearless
Week 1
Welcome back! We hope you all had an enjoyable two weeks off and are fully refreshed. We have been amazed at the amount of home learning that has gone at in the last two weeks, it has been really lovely to see. This seven week term is a busy one with a class worship coming up, a WOW day, a new Learning Theme, SAT's and sports day to prepare for. Letters will come home next week with the dates for all of these as well as an overview of our learning for the next two terms.
In our maths learning this week we have been looking at the inverse which means the opposite. We know that the inverse of adding is taking away and that the inverse of multiplication is divide. The children have found out that if they know that 33 + 31 = 64, they also know that 31 + 33 = 64, 64= 31 + 33, 64= 33+31, 64 – 33 = 31 and 64 -31 = 33. They have used the bar model to display this learning as well as drawing it to show the tens and ones digits. Children who chose challenge 3 have been working their problems out using the column method. Some of us got stuck in the learning pit with this at the start of the week but we have all persevered and have got it now! We developed these skills throughout the week and were able to solve problems with missing numbers in them. We found out that if 8 + ? = 10 we can you the inverse to work out 10 – 8 = 2 and therefore work out the mystery of the missing number.
In our writing we have become dragon experts! We listened to a story all about them and have been using this writing to write our own descriptive paragraphs. We have learnt all about possessive apostrophes to do this and we now have a good understanding that if something belongs to somebody we need to add an 's to the end of the work. We edited our work, checking for spelling mistakes, punctuation and even added some adverbs to make our writing even better. Take a look at these examples of our creative writing.
In Religious Education this week we continued to learn about Jewish people and how their believes compare to those of Christians. This week we learnt all about the Jewish festival of Simchat Torah. The children have been learning that Jewish people go to a synagogue to pray and read their special book, the Torah. When they have finished reading the Torah they have 2 days off which is called Simchat Torah. In this time the Torah's are removed from the arc and the Jewish people sing, dance and wave flags. We made our own flags and wrote all about Simchat Torah about the back of them.
Our Learning Theme for the last two terms of the school year is 'What will you create?'. We will be looking at materials and their properties. We asked the children what they would like to investigate and find out within this topic. We had some very well thought out questions.
Our key value for this term is peace. Your children will be looking at what this looks and sounds like in the world around us as well as what it means to them. This week we had a moment of stilling where we cleared our minds for three minutes and thought about where we felt the most at pace. We had ideas such as with family, lying on the sofa but in our bedrooms was a very popular suggestion. We will look at  Christian Bible stories that link to this and the messages they teach us. This will also be the focus for our class worship later on in the Term.
Thank you to everyone who has already paid for Mr G's science workshop which we are hoping will be held next week as part of our WOW day. If you are yet to pay for this could you please do, if there are any issues with this please come and speak to one of us in the classroom or the office.
This weeks spelling- enjoyment, sadness, careful, playful, plainness, argument, merriment, happiness, plentiful, cheerful.
Term 4
Week 5
It feels like only last week we were back after the half term holidays and now it is time for the Easer one, we can not believe how quickly this year is going by.
Our instruction writing was so impressive on Friday that we have moved on to creating non-chronological reports all about worms this week. We have used a range of sentence types to make our introductions and we are now concentrating on the sub headings and the information they contain. We are impressed with every single member of the class, they are enthusiastic and keen to share their new knowledge on worms! Unfortunately, due to the cold snap in the weather last week our wormeries did not work, we have put it down to the snow and the soil and the sand freezing and being too cold for them to bury themselves. Have a look at some of our reports below, we think you will be very impressed!
The children in Reception have been hatching eggs as they do at this time every year. We were lucky enough to go and visit them on Tuesday afternoon. We enjoyed holding and stroking them and we all agreed that they were very cute! Some of us could even remember when we were in the Busy Bees and hatched eggs of our very own.
In hockey this week our hockey coaches got us to work on and develop our dribbling and tackling skills. We still find it really hard to move around each other with our balls because we have to look in two different directions at the same time! We are much better at dribbling now though; we know how to hold the hockey sticks correctly and that we have to keep the ball close to the foot of our sticks.
We have been talking about the Easter story this week. We chose a scene from the story and drew a picture on an Easter egg, which represents the new life that Jesus got when he rose from the tomb on Easter Sunday. Some of the children drew images from Palm Friday when Jesus rode in to Jerusalem on a donkey, others chose the crucifixion and the rest of the children opted to draw a scene from Easter Sunday in the garden of Gethsemane.
Please keep a look out for the letters that will be coming home this week about our WOW day for our next Learning Theme, What will you create? We are hoping to have the scientist Mr G come in and teach us all about materials and their properties. There is a small cost for this that can be paid for on your Parentpay account. Mr G is an ex secondary school science teacher and he has some brilliant experiments that really bring science to life.
We would like to thank our amazing and dedicated PTA team for their efforts this week with both the disco on Thursday night and the Easter egg hunt on Friday morning.  The children thoroughly enjoyed the Easter egg hunt this morning, it was lovely to see them helping each other to find the hidden eggs, they were truly beaming. Our PTA team are a group of wonderful people who support our school at every turn. If you would like to join them please get in contact, they are always looking for willing volunteers.
Thank you to all those parents who came in to school this afternoon. It was lovely to see your children chatting about their work so proudly. If anyone was unable to come in this afternoon please come and see us and we will gladly arrange another time for this to happen. Have a great two weeks off for Easter, we will see you in April ready for the last two terms of the year!
This week's spellings are common exception words which means that they can't be sounded out so the children find this particularly difficult- even, break, steak, great, move, prove, improve, sure, sugar, eye
Week 4
We kicked the week off with a visit from Nicole from Strong Vox, she is the head of marketing for the housing company. She told us about her job and other housing projects she has worked on. Strong Vox currently hold planning permission to build houses on the piece of land opposite our school gates. We spent Friday designing and writing about community gardens. When she visited us this morning we tried to persuade her to make our gardens! We used features and sentence starters to help us do this. We used sentence stems below…
'I think…'
'For this reason…'
'I feel that…'
'Surely…'
as well as subordinating conjunctions to explain our reasons.
Nicole explained that their plans are still in the ideas stages but if they can they would love for it to include a garden!
Tegan presented her plan and ideas to Nicole
Riley confidently spoke about his want for a colouring cave.
Tuesday bought another visitor in to the Year Two Crew! Meg from Farm Link came to talk to us about habitats. She started by explaining that she is a farmer of a beef and arable farm. She grows barley that is fed to her livestock and oil seed rape that is turned into oil. She went on to explain the differences between wild plants and grown plants. The children looked at the labelled pictures and tried to work out if they had come across any of them before. We also looked at plants that we she stay away from such as deadly nightshade, foxglove, lily of the valley, ragwort, ivy, mushrooms and toadstools. We recapped on the elements that plants need, the children were able to tell Meg that they need water, soil and sunlight to grow, the were also able to say that things such as manure help them grow too.
Did you know that 50% of the worlds bluebells are grown here in the United Kingdom? They are just one of the wild plants that like shady conditions that like growing in our woodlands. Grasslands are large open areas covered in grass, usually planted by farmers. Clovers, buttercups and devils bit scabius are plants that can be found there. Open uncultivated areas of land are called heathland where heather, gorse and coarse grasses. Arable farmland is land that is used to grow crops. Upland is an area of hilly or high land where plants such as high wheat and bracken grows. Wetland is an area of land saturated by water. Coastal areas are place that are by the sea. We learnt about all of these habitats this morning and discussed the differences between them.
Meg then went on to talk about how plants germinated by starting as a seed, shoots growing, roots searching for water and how this is all part of the life cycle of a plant. The children were really interested to see that the because plants have seeds that the life cycle carries on going around and around. They talked about the importance of bees and pollination and the wind for seed dispersal.
How long do you think a plant can live for? We found out that it can be 3000 years! Wow!
Thursday this week was all about creepy crawlies. We kicked of the morning with a visit from Rob who is a bee keeper. He told us lots of information about bees. He showed us a small bee hive and explained that there would usually be 20,000 bees inside!  Rob, showed us some bees wax that had been made by his own bees, he explained to the children that this cannot be made in a factory and is where they store their honey.
The queens bee also lays eggs in it, about 2,000 a day! The drone bees are the males bees and their job is to mate once with the queen, they are not needed after this and die, some do not even make it to the queen. The worker bees are the busy ones who collect the nectar from the flowers and take it to the hive to make honey. If the queen bee died there would be no eggs and the colony would die.
He talked about the importance of keeping safe and told us about his protective suit, the smoker that he uses and how bees do not sting unless they are scared.
They really are amazing animals!
Later in the morning we made wormeries using plastic bottles, sand and soil. They are nice and deep so that the worms can tunnel down really low and because the bottles are transparent we can watch them as they do so. We have collected our worms and made black covers for the bottles so that the worms think that they are underground. We can not wait to see what has happened on Monday!
This weeks spellings…
Week 3
It has been a busy week with a couple of special days! Wednesday was World Maths Day and we challeneged the children to learn some of their times tables. In Year Two we focussed on the multiples of two, three, five and ten. The children worked independently to work out 50 mixed multiplication number sentences from either challenge one, two or three. All of the children did really well and made us extremely proud. They have been given their forms to bring home and some children have already returned their sponsor form with the money they have raised. Money will be collected for a while yet so please keep them coming.
On Thursday we held our annual World Book Day, although it was week later than planned it was great. The children looked amazing in their costumes and enjoyed talking to each other about who they were and what their favourite books are. In parliament all groups had the opening sentence from a story and were asked, together, to continue it. It was great to see the children from all our classes joining in and adding detail to our stories. It was great fun and it was really interesting to read everyone's, very different, stories.
Next Monday we are having a visit from a local company called StrongVox, they own the piece of land opposite our school which currently has planning permission for 51 homes. The children have decided that a community garden would be a much better use of this land and have busy planning the types of things they would like to see there. In groups, they listed lots of ideas such as football pitches, allotments, cafes and a park. We followed up this piece of work with drawing plans of our designs. Tomorrow we will be learning how to write persuasively so that we can present our ideas and hopefully StrongVox will listen!
Happy Mothers day to all our mums x x x
Next week's spellings- word, work, worm, world, worth, worst, war, warm, towards, ward
**PLEASE NOTE THAT SCHOOL WILL BE CLOSED FRIDAY 2ND MARCH DUE TO THE WEATHER AND CURRENT CONDITIONS **
Week 2
Strangely this week I find myself writing this from the comfort of my warm home whilst being on a snow day! It has been a shorter week than normal with only 3 days in school.
In maths this week we have been tackling fractions. We have learnt that a fraction means part of something and is extremely similar to our last maths topic, division. We have found out that the bottom number of the fraction, the denominator, tells us how many pieces there are in total whilst the top number, the numerator indicates how many of those pieces we require. We have been busy finding halves and quarters of shapes and started to look at halving numbers and how this is the same as dividing by two. Some of us have also discovered that two quarters is the same a one half.
The while class have continued to wow us with their story writing this week. They now use adjectives, adverbs, conjunctions, similes, speech marks, paragraphs, interesting sentence starters and fronted adverbials to create atmosphere and interest in their writing. Their learning attitude is fabulous.
In music this we became composers and arranged our own pieces…
Spellings next week will the same last week as we were not in school this week to test them.
Next Wednesday is our sponsored maths challenge day. Children will answer questions from a range of their times tables and we would really appreciate them going through some of them at home with you. Sponsor forms are to come into school from Thursday please.
As you are all aware today was due to be World Book Day but this was cancelled due to the weather and closure of our sites. Please be advised that this will be rearranged and your children (and staff!) will get to wear their costumes at a later date.
As we celebrate 150 years of St Anne's school this yet we are seeing if we can collect 150 photographs of you and your families enjoying the snow. Please send any photographs to the St Anne's Twitter or Facebook page.
If this weather continues, our next curling lesson could be outside! Enjoy the long weekend in the snow.
Week 1
Welcome back, we hope you all had a lovely week off. Wow we are already half way through the school year, we can't quite belive how quickly the weeks are going by!
In maths this week have been continuing to investigate division. We are learning that division is the same as sharing out and is also the opposite (inverse) of multiplication. We have found that if we know that 10 divided by 2 is 5, we also know that 5 multiplied by 2 is 10. We have been using a wide range of resources to help us such as counters, drawing arrays, using pictures, bar models and sometimes even our fingers. Next week we move on to fractions; there will be lots of talk about cutting up cakes and pizzas!
We have been planning our own stories this week in English. We have been thinking about sound effects that could add suspense in our story openers. We came up with some of these- crash, roar, bang,  hiss, boom, squeak, pow, splat, ssshhhhhh and swoosh.
One of our PE focuses this term is hockey. We had our first lesson on Wednesday afternoon and loved it! We used the sticks to dribble in and out of cones and played a game called trucks and trailers. Thank you Mrs Hodges for our new hockey sticks and balls!
Next Thursday is World Book Day and we are asking for the children to come to school dressed as a book character, this can be from a fiction or non fiction book. We are looking forward to seeing everyone and hearing about their favourite books!
This weeks spellings-
Term 3
Week 6
This week is safety week and we kicked it off with learning about road safety on Monday morning. The children went in small groups around the estate to learn the do's and don'ts about how to stay safe. The children learnt not to cross at a junction or a drop curb as the traffic comes from lots of different directions and could cause an accident. They also looked at things like brake lights, indicators and reversing lights to stay safe in a car park. On Monday afternoon we had a visitor in to talk to us about the air ambulance service and the amazing work they do.
On Tuesday morning we wrote reports about staying road safe in our communities. We used imperative verbs, conjunctions and time words to make them amazing! In addition to this we met a man from the RNLI who talked to us about how to stay safe on the beach, what the flags mean and why it is important to take our litter home with us. We will be sharing this information when we write our safety leaflets, which we will be bringing home with us at the end of the week. Some of these leaflets will be photocopied and given to parents from other classes within the school and nursery.
On Wednesday we had a very exciting visitor ! Leon Reid is a 200m GB sprinter who trains and lives in Bath.  Leon Reid took up sprinting at the relatively late age of 15 after being urged to do so by a school PE teacher and won a silver medal at the European Under-23 Championships in the summer. He is now the fifth faster British sprinter of all time. He talked to us about how to eat healthy and what it is like to be a world class athlete and his training regime. The Year 2 Crew were certainly inspired; with many of them starting their sprint training at playtime, we may have a future Olympian in our class!
On Thursday morning we were visited by Ben Peters from Explorers Escape. Explorers Escape was founded by two of the most experienced explorers in the UK. They have come together for a love of education and a passion for their planet. They Produce documentaries that aid science and education through extraordinary expeditions around the world and we are really lucky to have developed a relationship with them.
We met Ben Peters back at the start of the school year when we were investigating our Learning Theme 'Who Is The Greatest Explorer?' He came to visit us and told us what it is like to be an explorer, what animals he had come across and what his next adventure was going to be.
We were left feeling inspired by him and the information he had shared with us so we decided to do some research of our own! We used and developed our ICT skills to research different places around the world that we thought would be of interest him. We each wrote a letter to him persuading him to visit our suggestion.
When Ben returned from his adventure on the Blue Nile he came to see us. We very very surprised to see our now tatty blue envelope tucked under his arm. Ben explained that he had taken all of our letters with him on his trip and that each night he had read one. We are extremely touched that he not only took these with him but that he took the time each day to read and reply to them.
We are looking forward to our next visit from Explorers Escape when they will tell us all about their trip deep under the sea. They will be exploring the pollution in our seas which will tie in with out next Learning Theme which explores pollution and the properties of materials.
We would like to take this chance to thank you all for coming along to the Learning Reviews this week with your children. Thank you for your continued support  and have a great week off with your children making memories.
This weeks spellings- all, ball, call, walk, talk, always, small, wall, fall, altogether
Week 5
Pumpkins large and small have been the topic of conversation in Year 2 this week as we look at our new book study 'Pattan's Pumpkin'. Pattan has an amazing pumpkin…it grows BIGGER than the goats, BIGGER than the elephants, until it is as TALL as the mountains. The children started the week by using their descriptive writing skills to write a detailed piece describing the pumpkin and the things on it. As the week has progressed we have developed our ideas and expressed them through diary entries as if we were Pattan himself.
Today we bid Miss O'Donghue goodbye. She has been with us for most of the school year and it has been lovely to see her grow and blossom alongside your children. We will all miss her as she goes on to her final teaching practice but we know she will shine and be an amazing teacher when she gets her own class. Good luck Miss O' Donaghue1
Next week is the last week of Term and Learning Reviews will be taking place on Wednesday and Thursday, we hope to see you all there. Have a lovely weekend, hopefully the sun will continue to shine!
Spellings- patting, patted, humming, hummed, dropping, dropped, sadder, saddest, runner, runny
Week 4
We have continued to look at multiplication this week and have learnt that you can use commutative law when multiply numbers. We have learnt that we can work out our number problems in a variety of different ways; we can use bar models, groups, arrays or through repeated addition. We have solved number sentences as well as word problems.
Today we have finished our book study on Lila and the secret of rain by publishing our reports. Have a look at these…
This afternoon we have thought about the goals we set ourselves by looking at the types of things we have already achieved. We drew round a person from a group and labelled it with some of these things. There were out of school achievements, school learning and even personal qualities. We showed some great thinking!
In our themed learning this week we dissected flowers, sorted them by colours and then used the elements to create our own flowers. Some of us found this fiddly as our picture were intricate but it definitely helps with our fine motor skills.
On Wednesday we extended our art skills by using water colours to paint still life pictures of the flowers. Our observational skills are most certainly improving!
In science we have been investigating what plants like to drink. We used our knowledge about plants in nature to predict the results. We found that the plant drinking water was the healthiest but we were surprised to find out the plants also like We think this is because the coke contains sugar and that acts as a food for them. Great detective work Year 2!
This weeks spellings- copying, crying, replying, marrying, carrying, flying, trying, drying, skiing, taxiing
Week 2
Our first full week back at school has been a busy one and it is nice to be finishing with lighter spring nights.
In English we have started a new book study, 'Lila and the secret of rain', which is all about a little girl's journey who is search of water for her drought- ridden village. Today we were using adverbs to improve our extended noun phrases. We began the session by role playing the variety of roles whilst using the 'ly' keywords. We wrote some of these ideas in our Learning Journals.
On Wednesday afternoon we used a lot of the flowers that you have kindly bought in for sketching. The children used their observational skills to see what details they could see. We were really impressed with their sketches; they had considered shading, proportions and the use of light and dark.
This weeks spellings- copier, copied, happier, happiest, cried, replied, tried, dried, driest, funnier
Week 1
Welcome back, we hope you all had an enjoyable Christmas and New Year!
We came back to a new Learning Theme today called 'How does your garden grow?' The children will spend time the next 2 terms investigating, researching and describing how plants grow. We started today by becoming botanists. We investigated different plants by using magnifying glasses, sketching them and writing down keywords. We discovered that all plants are different and have different features. Some plants are carnivorous which means they eat meat; one of them is called a Venus Fly Trap. Together we discussed how some plants are different and why. If you want to know, just ask us!
This afternoon we pretended to be carnivorous plats by putting honey on our fingers which represented the nectar in the plants and seeing if we could trap rice crispies, the flies to eat. It was very funny but a little bit messy!
After learning about the many different traps of carnivorous plants we designed our own on Friday. We used the information we had gathered on Thursday and invented our own bug trap ideas. We all did four drafts of our design improving each time, thinking about leaf design and colours, before drawing and adding labels to the fifth and final edit. We then created 3D plasticine models following their diagram and photographed them. Ask your children to explain how their plant can catch their food. This will help them when they write an explanation of how their plant works next week.
Term 2
Week 7
Wow, what a week! Things certainly aren't slowing down on the build up to Christmas.
Wednesday was all about the nativity. We are so incredibly proud of the Year 2 and how they performed in the afternoon and again in the evening; they showed everyone how mature, talented and sensible they are. They really shone. Thank you again for learning lines with your children and supplying their gorgeous costumes.
On Thursday we enjoyed a class cooking session. Our Christmas cakes are made and baked and are currently cooling ready for us to decorate next week. The children enjoyed exploring the variety of ingredients that went into them, the smell of the mixed spice went down well with most of them.
Week 6
We started a new book focus this week, we have been looking at the book The Lonely Beast.  We have been writing about the characters in the book using noun phrases, the past tense and question marks. We like The Beast because he is talented, friendly and kind.
In maths we have been learning all about money. We have been adding coins together to see how much money we have. We have added pounds and pence together.
The Christmas nativity is now looking really good and we are nearly ready for you to come and see it. We are still missing a few costumes so if we can have these in we would be very grateful. Thank you
Spellings- find, mind, behind, old, cold, gold, hold, told, every, everybody
Week 5
We have been busy rehearsing for our Christmas nativity. The children have really impressed us with their behaviour and how well they have learnt their lines and the words to all the songs. Thank you to those who have already dropped their costumes into us, these are steadily coming in.
In English this week we have been writing and publishing our story starters. We were all given a picture and we had to use our imagination to work out what we thought was happening. We tried to use a range of writing skills to make it as interesting as possible. Some of the children used beautiful similes and adjectives to describe.
There are only 2 weeks left of this term and we will be concentrating on Christmas and the traditions we celebrate. We have now had most slips back for the Christmas cakes, could we ask that these are all returned by the end of the week.
Week 4
On Thursday this week we went on a trip to Weston Museum. We spent the morning in a fossil workshop where we dug for bones like archaeologists, made our own fossils and got a chance to look at real fossils and the different types. In the afternoon we explored the museum where we saw lots of things from Weston in the old days. We really liked the old amusement machines but we thought the old dolls in Clara's cottage looked a bit strange!
We have had some lovely home learning coming in this week. This is Kayleigh and her letter to Father Christmas; she had used her beautiful cursive hand writing, amazing adjectives and a beautiful wish for somebody else.
It's the school fayre tonight and hopefully we will see lots of you there… there is even going to be a special guest!
Spellings- cry, fly, dry, try, reply, sly, shy, terrify, sky, multiply
Week 3
We started the week with a Jewish wedding! We learnt that it is not the same as a Christian wedding because the bride and groom get married under a chuppah and the groom signs a pre-nuptial agreement to look after his bride for the rest of their lives. The similarities we discussed were that rings were still exchanged and the bride was walked down the aisle. The rabbi oversaw the celebration and we congratulated the bride and groom by shouting "Mazel Tov!"
We have been maths superstars this week. We have been learning how to do column addition and subtraction. We know that the tens and ones have to be in line with each other. Today we started to look at borrowing a ten.
Today has been Children in Need. We've talked about where our money will be going and who it will help. Thank you for dressing up, making t shirts and donating money, it really does make a difference.
Spellings- I've ,I'm, wouldn't, couldn't, shouldn't, can't, don't, didn't, won't, she'll, he'll
Week 2
We have had a wedding in Year 2 this week! We have learnt about how Christians celebrate a marriage in church. We watched a video clip and then set about organising our own. We had a bride and groom, a vicar to conduct the ceremony, a best man to look after the rings and a father of the bride who hands his daughter to her new husband for him to protect her and keep her safe. We had a lot of fun making the bride a dress, making button holes, which were worn over the heart and rearranging the class room for the congregation. Our bride and groom made vows and promises to each other. It was a lovely celebration.
This weeks spellings- camel, tunnel, squirrel, travel, towel, tinsel, bagel, hazel, vowel, jewel
Week 1
Welcome back, we hope you had a restful week.
In our writing this week we have been writing about 'Bob, the man on the moon'. Bob decided to give up his job and we have been busy thinking of new jobs for him. We have come up with gardener, shark hunter, gold hunter, sea explorer, RNLI man, news reporter, pirate and school teacher… he will be busy for some time!
In maths we have been learning how to complete column addition and subtraction. On Wednesday we all found ourselves in the learning pit but on Thursday when we did it again we managed to work hard and climb out of the pit. We used our tens and ones to help us. We are really proud of ourselves.
In out themed learning 'Who is the greatest explorer?' we have been learning about a lady called Mary Anning. She was a fossil hunter who was alive long time ago. We wrote questions that we would like to ask her if she was still alive.
Have a lovely weekend celebrating Bonfire Night, please remember to stay safe.
Spellings- table, apple, bottle, little, middle, able, wobble, multiple, dazzle, riddle
Week 7
Wow, one term down already!
On Thursday afternoon we worked with the Year 1 children to make space mice in science. We made the mice out of paper, stickers and ribbon. We put them on top of empty bottles and launched them by squeezing the bottle. The air rushed out of the bottles and launched the mice high up in the air. We had to investigate which bottle made them go the highest. We found out that the biggest bottles sent the mice the highest because they have the most air in them.
In maths we have been looking at what happens to numbers when we add or takeaway ten. We have learnt tat the ones number always stays the same and the tens digit goes up or down by one. Ask us to show you and we can!
We would like to thank you all for attending the learning reviews which happened on Tuesday and Thursday afternoons. The children have had an amazing first term and have settled into Year 2 brilliantly. Have a lovely week off and enjoy the rest.
Spellings this week- recap on all of term 1
Week 6
We would like to start by thanking you and all your children for your support, kind words and hard work this week and always! As you are aware OFSTED were at St Anne's this week and they saw your children shining bright. They saw a variety of lessons, parliament, books and spoke to the children about their learning. We are very proud of the children and hopefully the report will be out in the next couple of weeks and we can share it with you.
We all travelled to space this week when the hall was turned into a space station. We were a little nervous as we stood outside pulling on our space boots and turning our oxygen tanks on. The stars raced by as we looked at space food, astronaut suits and planets. We watched video clips of Tim Peake's mission to space. We saw the blast of and what it was like to do simple tasks like drink water.
We finished the week quietly doing some art. We finished to sketches of Christopher Columbus' sailing ships and painted them in black. They look great  and the children have put a lot of focus and skill in to them.
This weeks spellings- door, floor, again, wild, children, climb, parents, most, only & both
Week 5
This week we welcome Miss O'Donaghue and Mr Andrews to Year 2, they are students from Bath Spa and will be with us until January. The children have been showing them how we work at St. Anne's and making them feel very welcome.
This morning (Monday) we have been having a debate! Using the book Beegu, we have been discussing whether or not the small friendly alien should be allowed to stay on Earth. We split into two groups to discuss our reasons before we debated it together. There were some very interesting ideas! We shared our ideas before writing them in our learning journals.
'It is fair that Beegu stays on earth because humans are allowed to go to space so we should let aliens come here.'
'I think Beegu should go home because she doesn't know how to play properly and she might cause trouble.'
'Beegu is an explorer. She has travelled to somewhere new and is finding out new things.
As part of our 'Who is the greatest explorer' topic we have been learning about one of the greatest space explorers, Neil Armstrong. We started the week by working with a partner and researching him online. We then used the research to write fact files about him, detailing when he born, other careers, his expedition to the moon and when he died. The children have been fascinated by not only Neil Armstrong but the space trip itself. We continued this learning on Thursday morning when we welcomed Space Explorers to school. We learnt about how planets move around the sun, how comets are made and even got to do a workshop where we made our own planets. It was a great morning and it was lovely to see the children so engaged in their learning.
Click below to see our video!
Spellings for this week- gem, giant, magic, giraffe, energy, jacket, jar, jog, join, adjust
Week 4
Another busy week in Year 2… we are over half way through out first term!
In maths this week we have continued to explore the partitioning of two digit numbers. We have used the knowledge we gained last week to help us solve word problems. We have introduced the bar method to help us draw out and compare our numbers. It looks like this…
In our English we have started the book Beegu. Today we have discussed how we would feel if we were a friendly space creature who had got lost and found themselves on Earth. We came up with words like tired, anxious,worried, lonely, upset, sleepy, unsure, bored, miserable, scared, nervous, sad and terrified. We will be using this book for the next couple of weeks as we build up to writing our own journey stories.
'Who is the greatest explorer?' is keeping us busy as we learn about Christopher Columbus. We had a go at sketching some of his ships this week. Our friends helped to give us some feedback and then we had a go at making them even better. Take a look at some of them below…
Tomorrow (Friday) is our Harvest Worship, we have already received some of your kind donations for this which will be given to the local food bank. If anyone wishes to send in any more donations they would be very much appreciated.
This weeks spellings… race, ice, cell, city, fancy, face, space, bicycle circle and spicy
Week 3
This week has been busy and we are enjoying being Year 2s, the holidays now feel like a long time ago.
We have been learning to partition  2 digit numbers in maths. We have been using our tens and ones to help us and we think we have got the hang of it now. Today we were confident learners and were able to partition amounts of money and draw the right coins for our amounts.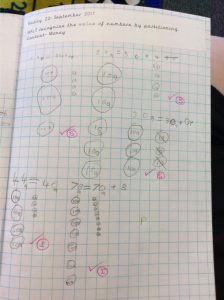 Izzy
Mia
Jamie
Riley
This week we received an email from Ben Peters, he is the explorer that we met last week, he has asked us where we think he should go on his next adventure. We have written letters back to him and they contain adjectives, conjunctions, exclamation marks and a power of 3. Next week we are writing them up in best to send to him. We hope he enjoys them and writes back to us.
This weeks spellings- race, ice, cell, city, fancy, face, space, bicycle, circle, spicy
Week 2
"If the world was a book would you only read page 1?"
We were luck enough today to meet another adventurer today, he was called Ben Peters  and works for Explorers Escape. He travels around the world visiting lots of different places and animals such as crocodiles, hippos and snakes. He told us that he was in the army for 12 years and is now a medical and rescue worker, as well as this he films documentaries. At Christmas time he is going to be in Africa and he has asked us to email him the adventure stories we will be writing so that they can read them around the campfire with his team. He was truly fascinating.
"He taught us that hippos are more dangerous than sharks because they kill a lot more people" Izzy
"He showed us a video about his next project in Ethiopia" Kloe
"He has worked on TV programmes with Bear Grylls" Mia
This weeks spellings-
write, written, wrote, wrong, wrap, wrist, wreck, wrestle, wriggle, wren
Week 1
Spellings for this week- knock, know, knee, knitting, knife, gnat, gnaw, gnash, gnome, gnarled
We have had a great first week in Year 2! The children have settled into their new routine well and we have managed to learn everyone's names!
On Tuesday afternoon we challenged the children to be engineers and build a tower from spaghetti and marshmallows that would balance a plastic egg on the top. The children used skills such as team work, listening and perseverance to build their towers but the most exciting part was being allowed to eat the marshmallows at the end! Take a look at some of the picture of our engineering.
Wednesday morning we got stuck in to our topic 'Who is the greatest explorer?' We spent some time thinking about and writing questions we would like to ask an explorer if we were ever lucky enough to meet one. Amazingly after playtime a time travelling explorer stumbled in to our classroom! His name was Pedro and he was a cabin boy on board Christopher Columbus' ship. He told us what it was like to sail around the world, what he saw on his adventures and described some of the people he met. He told us about sailors, pirates and royalty. We have decided that we would definitely like to be explorers and travel the world!
Here is a video of us learning an old dance. This is the sort of dance they would have done in the times of Christopher Columbus.
Welcome to Year 2
The Year 2 Team would like to welcome you all back to the start of Term 1. We hope you have enjoyed a relaxing, fun and adventurous summer holiday. The Year 2 Team are ready and excited to start the new school  year with our WOW explorer day next Wednesday and look forward to seeing lots of little explorers for the day.  Our door is always open so please do not hesitate to come and have a chat and introduce yourselves.  Enjoy the last few days of the holidays and see you all bright and early on Monday morning.
Year 2 Team